Image Credit: Netflix
Guys... we are only 10 days away from Gilmore Girls: A Year in the Life! Are you as excited as I am?!
I seriously cannot wait and I've been counting down the days by re-watching every season of Gilmore Girls on Netflix (luckily they're all on there because my DVDs are starting to get a little worn) for the umpteenth time.
I wouldn't say I'm addicted to Gilmore Girls (OK, maybe I am) ...but I have seen every episode more times than I can count. Somewhere in college (which was five years ago now at this point), I started watching every episode again for the 20th time and just stopped keeping track.
Since I've watched Gilmore Girls so many times, and at the request of my mother, I decided to put together my Unofficial Gilmore Girls Binge-Watching Guide. To quote Lorelai who is quoting the Matrix, in my all-time favorite episode "You Jump, I Jump, Jack" - "I am the Oracle. I carry all the knowledge."
I realize that most of you (unlike me) probably have lives (and sleep more than I do), so it might not be possible to watch all 153 episodes. So instead, here are the top 5 (or 6 in season one's case) episodes from every season that I think are must watches.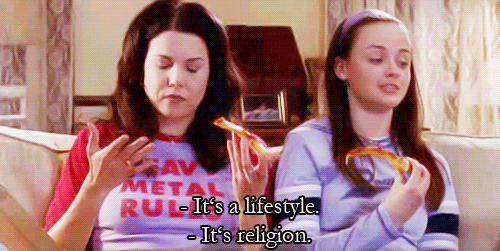 Season 1
— Ep. 1 Pilot
— Ep. 2 The Lorelais' First Day at Chilton
— Ep. 9 Rory's Dance
— Ep. 15 Christopher Returns
— Ep. 16 Star-Crossed Lovers and Other Strangers
— Ep. 21 Love, Daisies and Troubadours
Season 2
— Ep. 1 Sadie, Sadie
— Ep. 4 The Road Trip to Harvard
— Ep. 5 Nick & Nora/Sid & Nancy
— Ep. 13 A-Tisket, A-Tasket
— Ep. 22 I Can't Get Started
Season 3
— Ep. 1 Those Lazy-Hazy-Crazy Days
— Ep. 7 They Shoot Gilmores, Don't They?
— Ep. 9 A Deep-Fried Korean Thanksgiving
— Ep. 13 Dear Emily and Richard
— Ep. 22 Those Are Strings, Pinocchio
Season 4
— Ep. 2 The Lorelais' First Day at Yale
— Ep. 18 Tick, Tick, Tick, Boom!
— Ep. 20 Luke Can See Her Face
— Ep. 21 Last Week Fights, This Week Tights
— Ep. 22 Raincoats and Recipes
Season 5
— Ep. 1 Say Goodbye to Daisy Miller
— Ep. 3 Written in the Stars
— Ep. 7 You Jump, I Jump, Jack
— Ep. 13 Wedding Bell Blues
— Ep. 22 A House is Not a Home
Season 6
— Ep. 1 New and Improved Lorelei
— Ep. 7 Twenty-One is the Loneliest Number
— Ep. 9 The Prodigal Daughter Returns
— Ep. 13 Friday Night's Alright for Fighting
— Ep. 22 Partings
Season 7
— Ep. 1 The Long Morrow
— Ep. 4 S'Wonderful, S'Marvelous
— Ep. 7 French Twist
— Ep. 20 Lorelai? Lorelai?
— Ep. 22 Bon Voyage
Congratulations, you've officially been Gilmored!
It was hard to pare it down to just five episodes. Obviously there are other episodes that may be funnier, wittier, or more charming, but I think these 36 episodes are essential to understanding the plot and essence of Gilmore Girls.
What do you think? Agree with the list? Any you'd add or take off? Tell me in the comments below! Happy binge-watching!